InterGen's Wine Wednesday with Jeffrey McCaig
As the year comes to a close, we are sitting down with a prominent individual whose impact extends far beyond his business success. Known for his numerous endeavors, Jeff McCaig has embraced the profound interconnectedness of business, philanthropy, mentorship, and community empowerment.
In addition to his active involvement in various initiatives, Jeff has become a cornerstone in the support system for aspiring business leaders. Whether through financial support, mentorship programs, or strategic advice, he actively nurtures the next generation of innovators, recognizing the pivotal role they play in shaping the future. Jeff has graciously shared his wealth of experience and knowledge, guiding new entrepreneurs towards success.
Join us for a Christmas cocktail as we gather together to celebrate the end of 2023 and look forward to the new year. We are delighted to have the opportunity to chat with a remarkable individual whose influence goes beyond his business accomplishments. An evening conversation about the potential of continuous growth, the beauty of community building by paying it forward, and the aspirations we have for the coming year. Let's raise a glass to the power of collaboration and the possibilities that lie ahead!
December 6│5:00 PM MST
Thomsons Social Hub, Hyatt Regency Calgary
Speaker: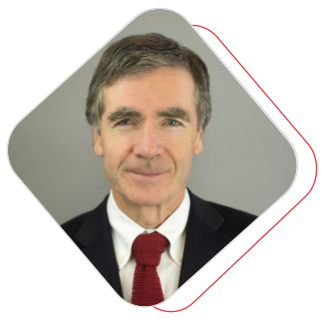 Jeffrey J. McCaig is Chairman of the Trimac Transportation group of companies. Trimac is one of the largest providers of bulk trucking services in North America and also provides complementary logistics services, including transload facility operations, distribution management, and freight brokerage.
Jeff has been with the Trimac Group of Companies since August 1983. He became President of Trimac Corporation in 1990 and was Chief Executive Officer from 1994 to 2015. Prior to Joining Trimac in 1983, Mr. McCaig practiced law in Calgary, first as an associate of MacKimmie Matthews, then through Jeffrey J. McCaig Professional Corporation, focusing on corporate financing and securities. He continues to be a member of the Law Society of Alberta.
In addition to being a Director and chairing the Boards of the Trimac group of companies, Mr. McCaig is a a Director of MEG Energy, a Canadian oil sands company and a Director of Grayhawk Investments Strategies Inc., an investment management company. He is also a Director and Chairman of Bantrel Company, an engineering, procurement and construction company and a Director and Co-owner of the Calgary Flames Hockey Club. He also serves as Chairman of the Flames Foundation For Life.
He obtained his undergraduate degree in Economics from Harvard; his law degree from Osgoode Hall Law School in Toronto, Canada; and his Master of Science in Management degree from Stanford University.
Jeff is married with three grown children and resides in Calgary, Alberta, Canada.
Sponsors:

Across over 80 countries, Dentons helps you grow, protect, operate and finance your organization by providing uniquely global and deeply local legal solutions. Polycentric, purpose-driven and committed to inclusion, diversity, equity and sustainability, we focus on what matters most to you.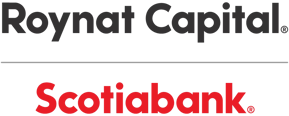 The Technology and Innovation Banking team at Roynat Capital | Scotiabank, invests in Canada's leading technology companies. From senior to subordinated financing structures with equity, we specialize in structuring flexible capital solutions helping founders with ARR above $2 million to achieve their next milestone. Our team is comprised of passionate, technology-fluent professionals with experience spanning private equity, venture capital, investment banking, and operational experience in some of Canada's fastest growing tech companies